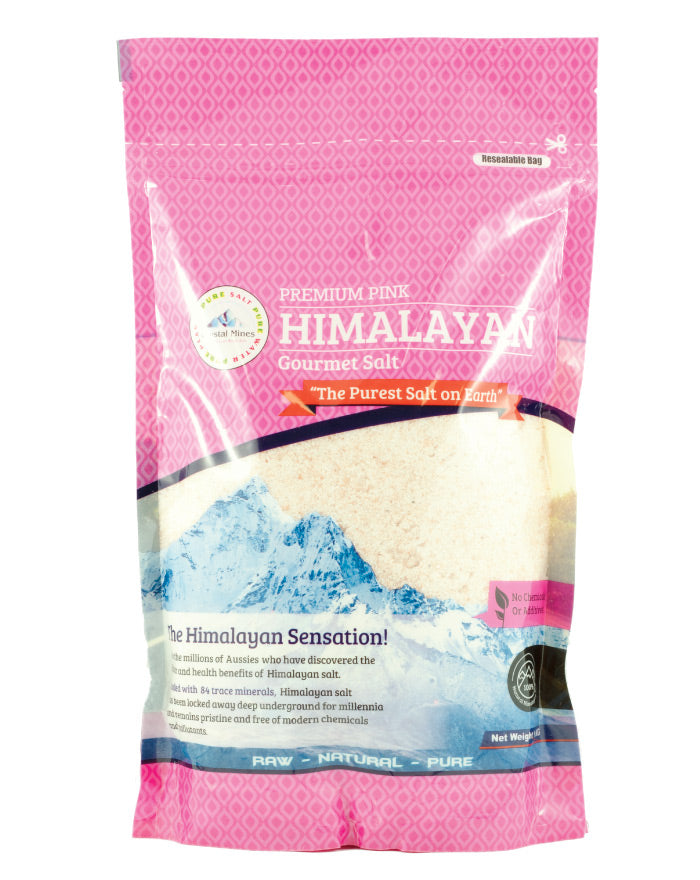 Crystal Mines
Crystal Mines Himalayan Pink Salt Fine 1kg
Order Code: CRM 12
Case Quantity: 12 x 1kg
UPC: 80687368020
Himalayan rock salt is also known as pink rock salt because of its distinctive pale pink colour. Himalayan rock salt is a naturally occurring salt rich in minerals and is regarded as one of the highest mineral-complex salts in the world.
Sourced exclusively from the Himalayas this is an unrefined salt that has been formed from the primal oceans millions of years ago and remains as pure now as it was then. Most salt today is drawn from the worlds oceans that have been in contact with humans and their by-products. Conversely, Himalayan salt predates civilisation. 
100% Pure with No Additives
Detoxifies the Body
Supports Muscle & Organi Function
Helps Support Blood Sugar & Sleep
Himalayan salt has become well known for its amazing health benefits. It re-mineralizes the body with minerals and trace elements essential to our health and well being. Our Himalayan pink salt is rich in trace minerals - including Calcium, Magnesium, Potassium, Copper and Iron.
Ingredients: Premium Himalayan Pink Salt Coarse
---
Share this Product
---
More from this collection