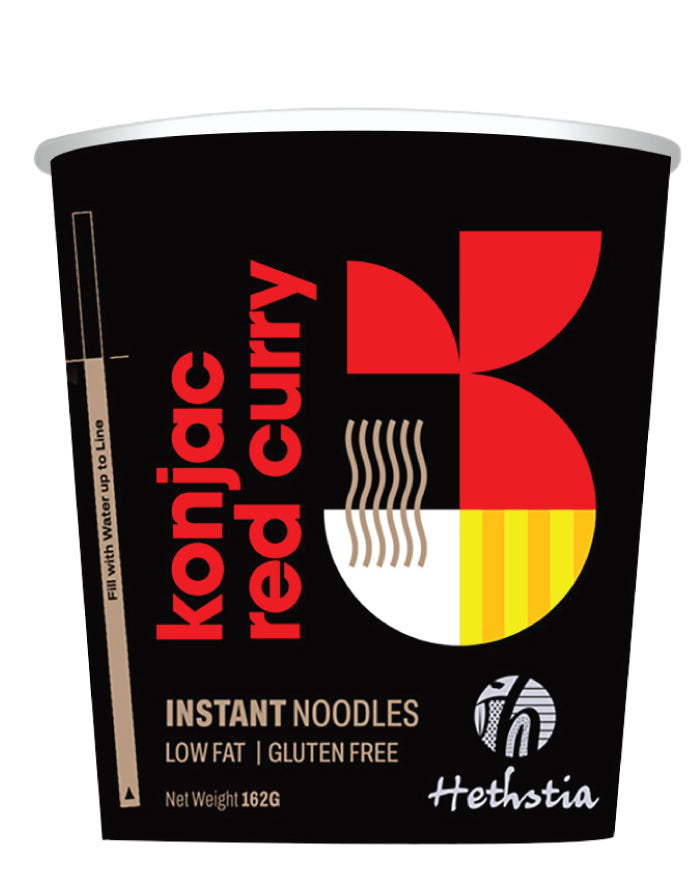 Hethstia
Hethstia Konjac Cup Noodles - Red Curry 160g
Order Code: HET 53
Case Quantity: 12 x160g
UPC: 6933981301443
Here's a first, presenting our new Hethstia Instant Konjac Cup Noodles. Each cup includes a generous 120 gram serve of Hethstia Konjac Noodles. They are super simple to prepare, and provide a hearty, tasty meal with all the health benefits associated with Konjac! No subtle flavourings here either, our Red Curry, Tom Yum and Tomato flavour bases are rich and intense. The visually engaging packaging establishes the quality perception for customers. 
Plant Based Vegan

Superior Quality

Gluten Free

Low Waste Packaging

KETO Friendly


Fat Free

Zero Net Carbs

Low Calorie

Egg & Dairy Free

Soy & Nut Free

Low Salt & Low GI

Non GMO

Kosher & Halal

Independent Exclusive
Hethstia brings a touch of gourmet to healthy living at an affordable price. Hesthia Instant Konjac Noodles are a great healthy and convenient option that's gluten free, low calorie, KETO friendly and kosher certified. However, we think its the delicious taste and great value that will have your customers stocking up.
Ingredients: KONJAC NOODLES: Water, Konjac powder, Citric Acid. SAUCE: Water, White sugar, Vegetable oil, Edible salt, Onion, garlic, Curry powder, Ginger, Tomato paste, Red sweet pepper powder, Yeast extract, Pepper powder, Spice (black pepper powder, onion powder), Edible essence, 5'- flavored nucleotide disodium, Citric acid. VEGETABLES: Onion, Carrot.
---
Share this Product
---
More from this collection