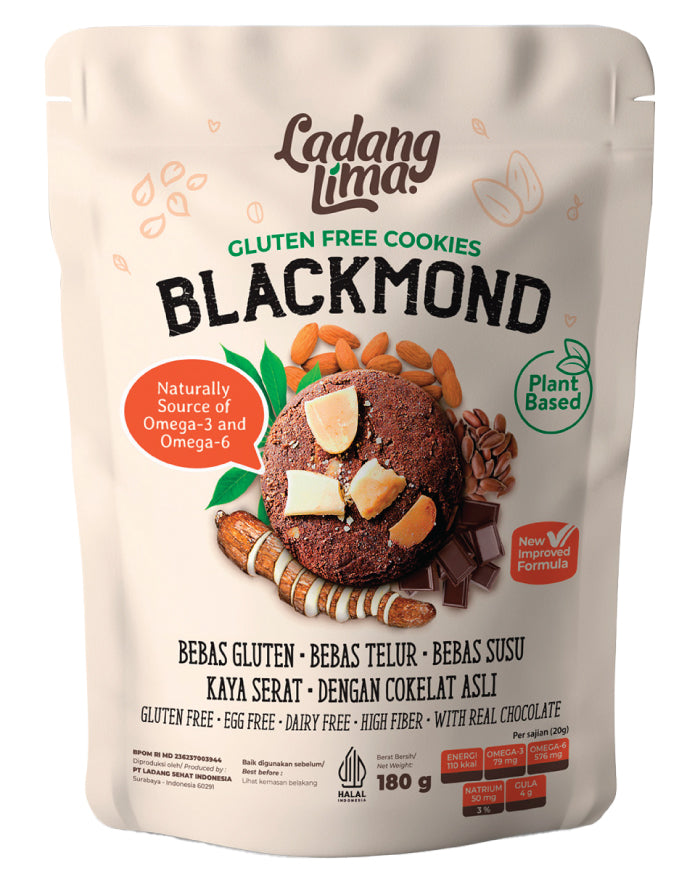 Ladang Lima
Ladang Lima Blackmond Chocolate Almond Cookies 180g
Order Code: LAD 01
Case Quantity: 12 x180g
UPC: 8997204770094
What is "Ladang Lima"? Two words, Ladang means the farmland where the gluten free ingredient cassava grows naturally, and Lima means five, which encompass the five healthy benefits that can be found in all our products. Lading Lima usese innovative biotechnological methods to produce delicious natural gluten free products using cassava flour, which has the same characteristics as wheat flour. Lading Lima Cookies are tasty products of exceptional quality, nutrient rich, gluten free and affordably priced.
Gluten Free
100% Natural
Plant Based Vegan
Bleach Free Casava Flour
Source of Fibre, Calcium & Iron
Low GI

Sustainably Farmed

Preservative Free
SRS Certified

Independent Exclusive
Ingredients: Pumpberry: Cassava Flour, Sago Starch, Pumpkin Seed, Sun Flower Seed, Flaxseed, Cranberry, Coconut Sugar, Coconut Oil, Cinnamon Powder & Baking Powder.
Ingedients: Blackmond: Cassava Flour, Rice Flour, Corn Starch, Chocolate, Coconut Flakes, Coconut Oil, Salt, Flaxseed, Sustainable Palm Sugar, Almond, and Vanilla.
Ingredients: Blackthins: Cassava Flour, Chocolate Powder, Almond, Margarine, Coconut Sugar, Flaxseed, Baking Soda.
---
Share this Product
---
More from this collection