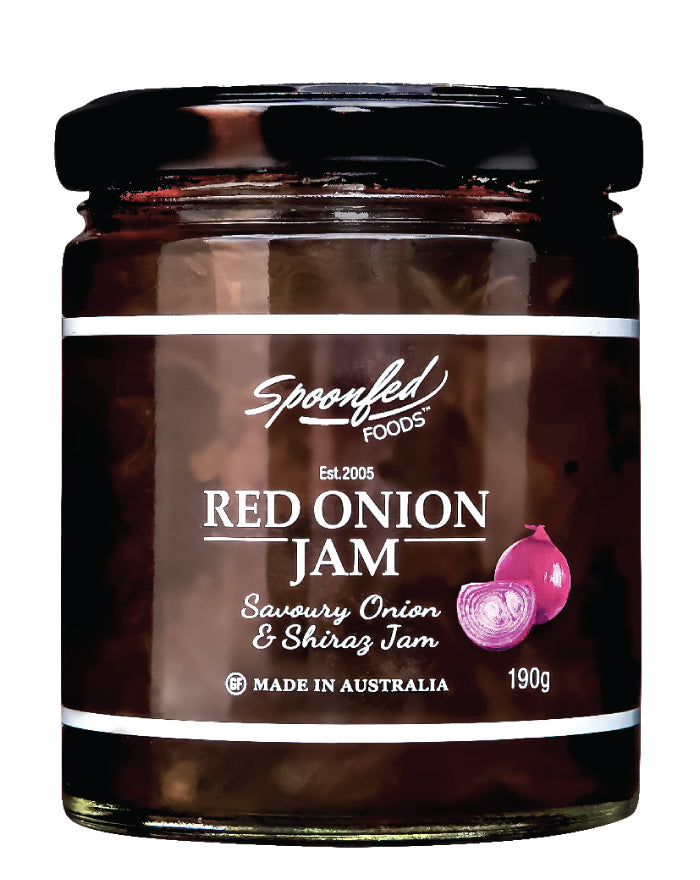 Spoonfed Foods
Spoonfed Foods Savoury Red Onion Jam 190g
Order Code: SPF 06
Case Quantity: 6 x190g
UPC: 9336479001158
A sensational combination of red onions, red wine and port. A versatile partner with many foods; scrumptious with steak, roast chicken or your favourite cheese.
Award Winning, Australian Made & Gluten Free
Plant Based Vegan & Vegetarian Options
Fresh Natural Ingredients, No Added Preservatives
Non GMO, No Artificial Flavours or Colours
Spoonfed Savoury Jam is a brand new category of specially created food condiments that are each designed to go with and balance particular savoury foods; their "partners". Spoonfed Savoury Jams are made just like jam, first slowly simmering fruit to a lava-like flowing consistency; but that's just the beginning for us. We next add the flavours that will give sweet, spicy, hot, earthy, fresh or sour tones depending on which of our Savoury Jams we are building, always tasting as we go until we achieve a perfect balance of texture and flavour.

Quality and a great taste are the hallmarks of all Spoonfed Foods products. Each of our Savoury Jams has a distinct personality, and every Jam delivers a completely different taste sensation, texture, balance and a layering of flavours. All our jams can be used as a condiment and also as an ingredient in your favourite recipe.

Ingredients: Onions (55%), sugar, shiraz (10%), red wine vinegar, extra virgin olive oil, port (1%), gelling agent (pectin), green peppercorn, dried mushrooms, balsamic vinegar, salt, herbs.

---
Share this Product
---
More from this collection