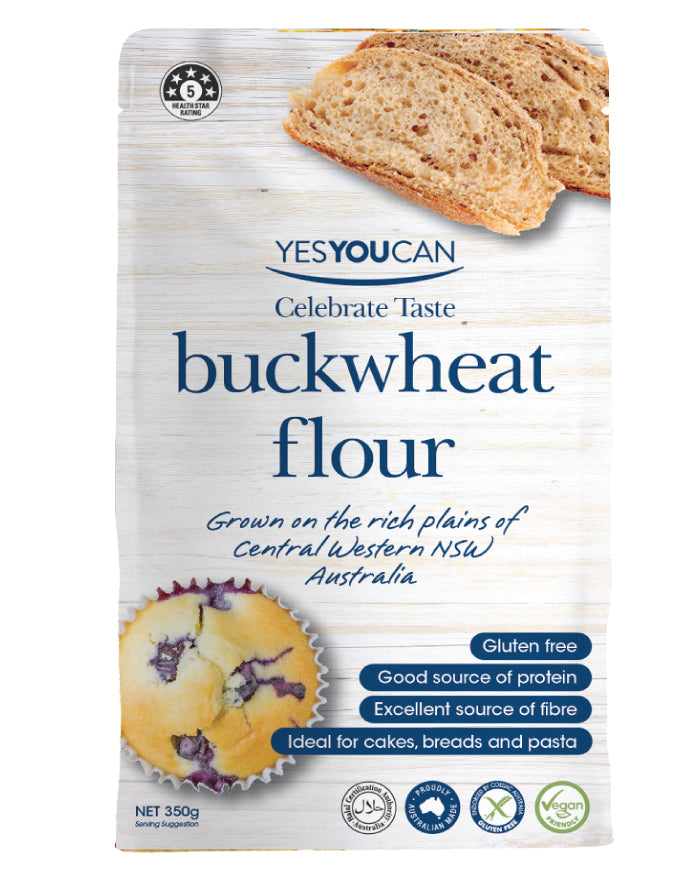 YesYouCan
YesYouCan Buckwheat Flour 350g
Order Code: YYC 51
Case Quantity: 6 x 350g
UPC: 9328987006206
YesYouCan Buckwheat flour is grown in the rich Central Western region of New South Wales. It is naturally gluten free. It is a premium Australian flour, providing an excellent source of fibre and a good source of protein. YesYouCan Buckwheat flour has more protein than many other flours and contains all eight essential amino acids. It is also rich in magnesium, copper, folate and manganese. 
Australian Grown

Gluten Free, Coeliac Australia Endorsed

All Natural, Plant Based & Vegan

Low FODMAP Friendly, Soy & Nut Free
Independent Exclusive
Buckwheat is defined as an ancient grain, as has been harvested for it's energy and nutrients for over 8,000 years in eastern Asia and the Himalayas. Buckwheat is a fruit seed and is closely related to rhubarb. It is considered to be one of the healthiest alternatives to whole grains. YesYouCan Buckwheat flour is versatile. It is a popular healthy substitute flour in pancakes and crepes. It is a favourite in gluten free baked goods such as cakes, muffins and breads. It is also ideal for making gluten free pasta and noodles, such as Japanese Soba noodles. Buckwheat flour is often used in combination with other flours, such as rice, tapioca and maize.
---
Share this Product
---
More from this collection