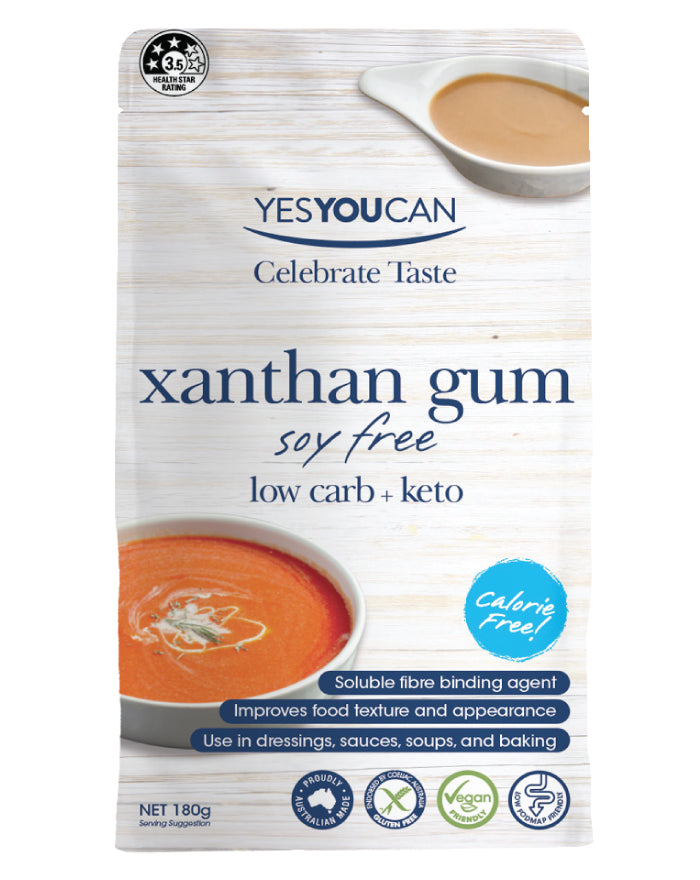 YesYouCan
YesYouCan Xanthan Gum – Soy Free 180g
Order Code: YYC 63
Case Quantity: 6 x 180g
UPC: 9328987006015
YesYouCan Soy Free Xanthan Gum is gluten free, soy free, dairy free and made in Australia. It is an all-purpose thickener and stabiliser, acting as an emulsifier to serve as a gluten substitute. It has no taste or smell which makes it ideal for gluten free baking, dressings, sauces and soups.
Gluten Free, Coeliac Australia Endorsed

All Natural, Plant Based & Vegan

Low FODMAP Friendly, Soy & Nut Free
Soy & Calorie Free

Improves texture, consistency and shelf life.
Heat resistant thickener and stabiliser.
Provides elasticity and fluffiness to baking goods
Improves food appearance, and prevents food separation
Endorsed by Coeliac Australia

Australia has one of the highest standards in the world when it comes to gluten free: There should be NO DETECTABLE GLUTEN in 5 parts per millionfor products to be labelled GLUTEN FREE while the USA and other places, the legislation allows for as much as 5 times more gluten detected. Australia has the strictest legislation in regard to 'gluten free' claims, with no detectable gluten being the only acceptable result.

YesYouCan Gluten Free Products follows strict quality assurance guidelines and is also endorsed by Coeliac Australia as well as HACCP approved.
---
Share this Product
---
More from this collection